The president got applause asking for cooperation — and criticism from the GOP.
President Joe Biden on Tuesday delivered his second State of the Union address, balancing a push for bipartisanship in a divided Washington and advocacy for his own policies heading into next year's election.
Standing in front of Vice President Kamala Harris and House Speaker Kevin McCarthy, R-Calif. — a visual reminder of the back-and-forth in store for at least the next two years — Biden drew applause lines for pleas for cooperation and heckles over thrown elbows for Republican policies.
A victory lap, but pleas for cooperation
Biden started the speech with his version of a victory lap, touting surprisingly strong job growth and a string of legislative achievements as well as continued consensus in supporting Ukraine against Russia. He also noted Democrats in November expanded their majority in the Senate.
"Unemployment rate at 3.4%, a 50-year low. Near record unemployment for Black and Hispanic workers," he said. "We've already created, with your help, 800,000 good-paying manufacturing jobs, the fastest growth in 40 years."
But throughout his speech, Biden repeatedly said that the country's accomplishments were achieved with "your help" — ad libs that were not included in his prepared remarks — and insisted that he looked forward to working with Republicans.
MORE: State of the Union live updates and analysis: Biden says 'the soul of this nation is strong'
Biden went on to boast of 300 bipartisan laws that he signed, maintaining that more could be on the way — if the House, under new GOP management, would work with him despite conservatives campaigning on being a check on what they said was a reckless, dangerous administration.
"To my Republican friends, if we could work together in the last Congress, there is no reason we can't work together and find consensus on important things in this new Congress," he said. "The people sent us a clear message: Fighting for the sake of fighting, power for the sake of power, conflict for the sake of conflict, gets us nowhere."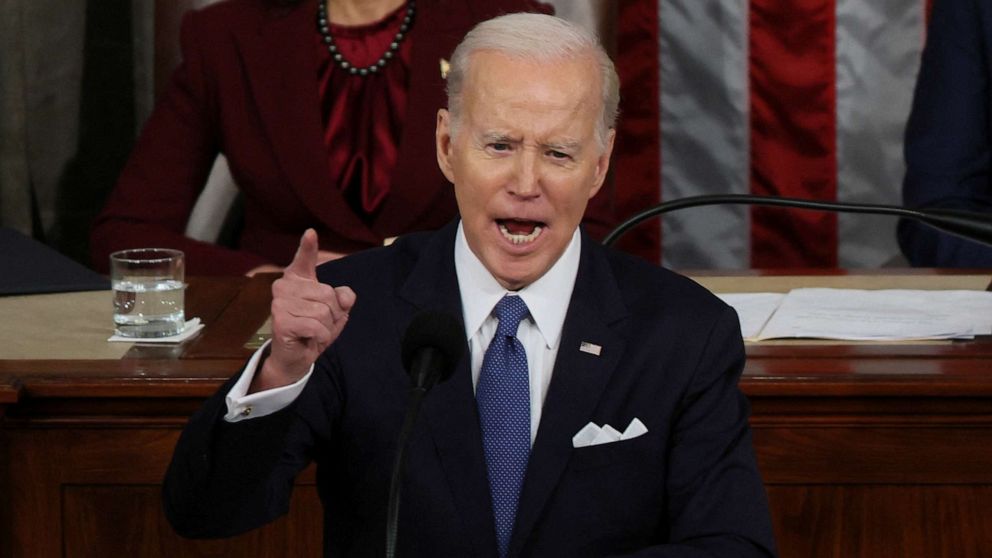 Still, heckles throughout
Despite Biden's calls for bonhomie — and jovial moments like him FaceTiming with a congressman's baby son at home after his speech — the president was heckled throughout his remarks.
Biden, reprising an attack line employed in recent months, accused Republicans of seeking to cut funds for Social Security and Medicare, seeming to pin the accusation on a plan released by Sen. Rick Scott, R-Fla., that would sunset all federal funding after five years and make money for the program repeatedly subject to renewal.
https://events.ajc.com/event/fd46f00b490264b5b7c8d55226d0026e
https://events.ajc.com/event/de28dc32b6fe10de1c5d5d3d991b247d
https://community.backtrader.com/topic/66371/avatar-2-el-sentido-del-agua-ver-pel%C3%ADcula-%E2%84%82ompleta-online
https://boosty.to/czr/posts/04140c4a-94f1-44ad-b74d-147db220dfc4
https://events.ajc.com/event/3a159311a9c92a733bb3c5989142a766
https://events.ajc.com/event/fd46f00b490264b5b7c8d55226d0026e
https://unsplash.com/@puss_in_boots_2_francais
https://unsplash.com/@avatar_2_francais
https://unsplash.com/@m3gan_francais
https://hackmd.io/@nc3Eh2nDTPeKxKGdyrvuBQ/H126gjG3s
https://www.threadless.com/forum/post/1031668/m3gan_2023_ver_pelicula_online_en_espaol_latino_completa_hd_gratis
https://stepik.org/course/137577
https://stepik.org/course/137582
https://stepik.org/course/137746
https://lookerstudio.google.com/reporting/32c6f9f1-a13e-41f5-9f82-c47d815d0266
https://lookerstudio.google.com/reporting/4f6f025a-4a75-4ee4-87fd-f166bea7c0c5
https://unsplash.com/@elgatoconbotas2/stats