A growing list of Australia's top menswear designers
Male-identifying fashion doesn't need to be boring.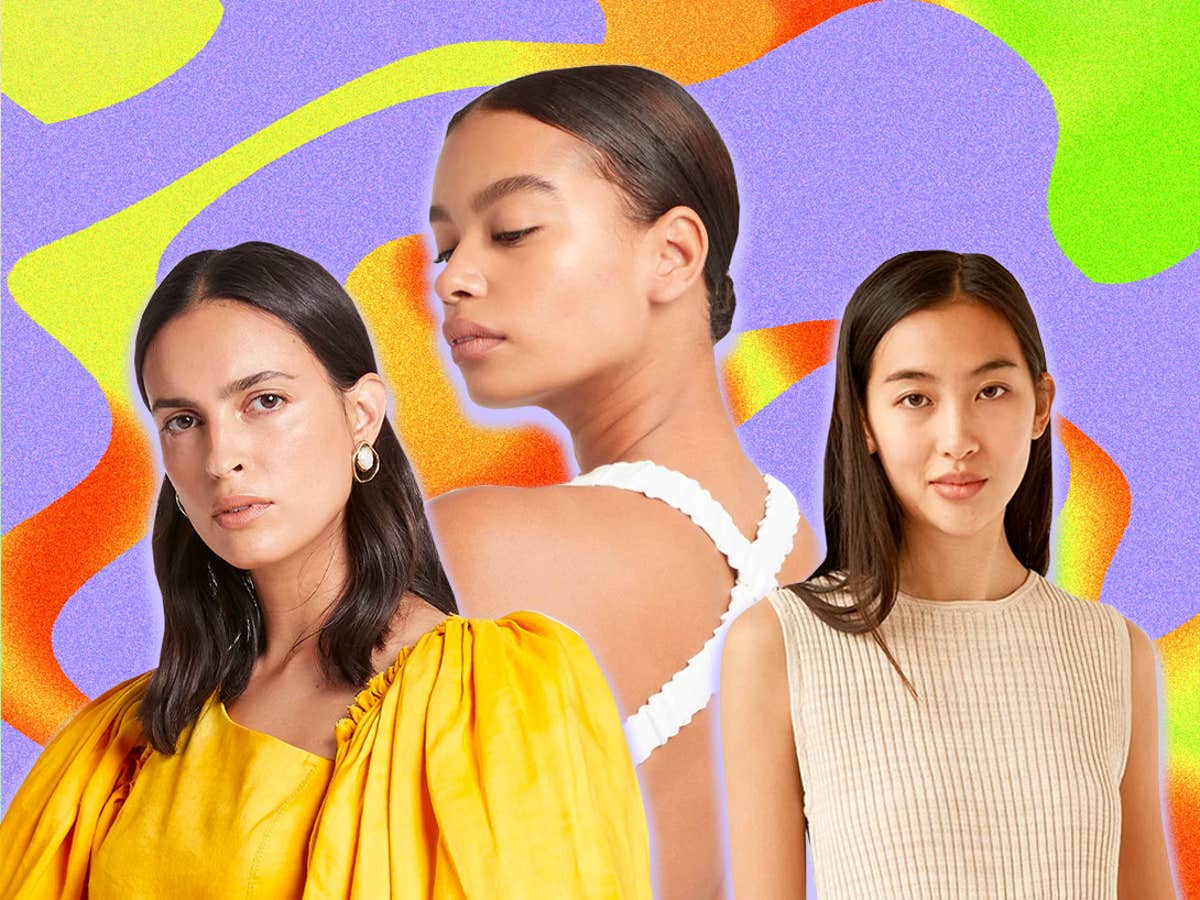 Long gone are the days where a patterned sock makes a man a flashy dresser (no shade, finance bros). Sometimes it seems that women get to have all the fun when it comes to fashion, but with so many incredible Australian designers creating eye-catching menswear looks, there's no excuse for any gender to fade into the background.
Keep up to date with emerging Australian labels over at our Fashion section.
Whether you're male identifying, have a penchant for androgynous style, or gravitate towards genderless dressing, here are the top Australian brands specialising in menswear. So next time your mate, uncle or colleague says injecting style into their wardrobe is "too hard", you know where to point them.
Just like its punctuation point namesake, Commas is all about taking a thoughtful pause. The purposeful Sydney-based resort and swimwear label prints original artwork onto quality fabrics, so it's no surprise the brand has been recognised with countless awards.
The androgynous-leaning Strateas Carlucci creates modern pieces that can be worn by any gender. Its experimental designs, contemporary sensibilities, and unorthodox stylings have made this Melbourne brand a celebrated industry player for over a decade.
While your summer fling might not go the distance, your pieces from Christian Kimber definitely will. Founded in Melbourne in 2014 and artisanally handcrafted in Europe, this ethically minded brand creates time-transcending wardrobe staples that'll look good on you, your brother, your dad, and your pop.
Bringing a sophisticated edge to streetwear, this Melbourne-based label features a range of timeless classics. Between knit crewnecks, foolproof tees and pleated trousers, Joseph & James has all the means to create a capsule wardrobe your twenty-something-year-old brother and sixty-something-year-old dad will both be raiding.
Founded by Wesley Chiang, Pseushi is a genderless label with a focus on contemporary design, high-end fabrics and local manufacturing. materials and processes. Based in Sydney, the label utilises local production to bring its youthful, colourful pieces to life.
Quiet Ander is a genderless fashion label with an emphasis on approachability, simplicity and purpose. Using thoughtful design and quality materials like merino wool and Japanese cotton, Quiet Ander stocks seasonless staples built to last.
Dallas Hurts crafts genderless streetwear with a ''90s-inspired twist, inspired by rave culture, multi-functional fashion and androgynous design. Crafted from deadstock, repurposed and recycled materials, the brand's standout pieces include wave jeans, parachute pants and an asymmetrical knitted vest.
Melbourne-based brand Candice was founded in 2019, driven by a passion for the craft of fashion design. Contemporary graphics and masculine sillhouettes create a classic Melbourne feel. Made for genderless wearability, the label offers a range of hoodies, tees, tailored pants and accessories.
https://www.podchaser.com/lists/航海王:红发歌姬-one-piece-film-red-線上看完整版–2022年电影zhhk-107tVPobgL
https://www.podchaser.com/lists/航海王:红发歌姬-one-piece-film-red-線上看完整版–2022年电影zhhk-107tVPobgM
https://c.mi.com/thread-4141836-1-1.html
https://c.mi.com/thread-4141858-1-1.html
https://open.firstory.me/story/cl79ixb3403gl01ta8xf80a37
https://open.firstory.me/story/cl79j5fh703ae01te9gt62vd0
https://www.blockdit.com/posts/6307e3e7c80919ea88275ac8
https://zenodo.org/record/7023805#.Ywfkl3ZBzIU
https://zenodo.org/record/7023813#.YwflbHZBzIU
https://www.podchaser.com/lists/pelisplus-one-piece-film-red-2022-online-audio-español-y-107tVPobkO
https://www.podchaser.com/lists/cuevana-one-piece-𝐅𝐢𝐥𝐦-red-2022-película-completa-o-107tVPobkP
https://open.firstory.me/story/cl79k6b4o03gy01tabo0r8628
https://c.mi.com/thread-4141908-1-1.html
https://open.firstory.me/user/dasepvskameja21
https://c.mi.com/thread-4141914-1-1.html
https://www.blockdit.com/posts/6307eca7c80919ea882ce118
https://zenodo.org/record/7023842#.YwfuJXZBzIU
https://zenodo.org/record/7023854#.YwfwK3ZBzIU
https://mymediads.com/articles/144834?new_advert=true
https://issuu.com/kleinmayari?issuu_product=header&issuu_context=link&issuu_cta=profile
http://foxsheets.statfoxsports.com/UserProfile/tabid/57/userId/101895/Default.aspx
https://muckrack.com/jenelleharthway-harthway/bio
https://pastebin.com/PHbVMTaE
http://th.cpp.sh/7hj5r
http://pastebin.falz.net/2406871
https://yamcode.com/q6eznkrejq
https://dotnetfiddle.net/IJdNQo
https://pasteio.com/x3voEydHGGUa
https://paiza.io/projects/uFP72_W4xS4OngtEYFv6-A?language=php
https://ide.geeksforgeeks.org/8f99033c-d3e1-4982-aaa7-ec880f8c1e49
http://pastie.org/p/5ESaLbQU6eW0TetrKxEWKH
http://paste.jp/e8376103/
https://paste.rs/Wd7.php
https://paste.toolforge.org/view/0a46e18f
https://paste.feed-the-beast.com/view/845a592b
https://paste2.org/M5ghs7vF
https://pst.klgrth.io/paste/xnpmq/raw
https://pastelink.net/hgcoi44f
https://paste.awesom.eu/raw/gresyrte/2hXl
https://jsitor.com/uXJunqleg
https://ideone.com/XipSfQ
https://controlc.com/10c16f42
https://coliru.stacked-crooked.com/a/5dca8c57bc27c95c
https://v.teknik.io/v/49RZ2
https://ctxt.io/2/AAAQCGTbFQ
https://txt.fyi/-/22236/7779b702/
https://wow.curseforge.com/paste/d967798c
https://tech.io/snippet/ZXzN0qm
https://telegra.ph/Fashion-is-art-Dont-forget-that-08-25
https://rextester.com/ALI89124
https://backlinktool.io/p/aBTTVmtG2qrcPGvXG7vA.html
http://th.cpp.sh/6unrnp
http://pastebin.falz.net/2406872
https://yamcode.com/fhow56i3xd
https://dotnetfiddle.net/v3Wpws
https://articlenetwork.site/van-der-kooij/
https://www.banditroom.site/fashion-is-art-dont-forget-that/
https://theamberpost.com/post/van-der-kooij-is-the-melbourne-made-avant-garde-label-to-know
https://techplanet.today/post/van-der-kooij-is-the-melbourne-made-avant-garde-label-to-know
With the motto 'Live Slow, Die Old', P Johnson Tailors channels an old-money aesthetic. Offering classic tailoring, '60s-inspired beachwear and an array of premium outerwear, P Johnson is the epitome of class for people who want to look especially put-together.
Forgot to bring a change of clothes to your SOs? Better hope they have a wardrobe full of Nonplus. The genderless label offers a range of tailored unisex pieces, from vests to shirts and 3¼ trousers, that look just as good on your partner as they do on you.
With a motto like "every day is shorts day", it's hard not to get behind a brand like Kerrin. Inspired by the Aussie outback and our country's laidback lifestyle, this line of clean casualwear favours muted colours and simple silhouettes, making it easy to look effortlessly cool.
An exploration of culture and connection to Country, Solid Ochre debuted at the 2022 PayPal Melbourne Fashion Festival to much fanfare. The brand is the brainchild of Whadjuk Noongar man, Nathan McGuire, the driving force behind Mob in Fashion – an initiative to boost First Nations representation in the fashion industry.
Crops, satin pants, sheer shirts and bodysuits, Salt Murphy offers the ultimate in fashion-forward self expression. Flattering fits and attention-grabbing fabrics will make you feel like a street-style snap just waiting to happen.
Charles LeBrun has amassed a cult following for its basketball-inspired sportswear that pushes comfort to the forefront. Born from creative director Georgia R Haynes' desire to buck fashion binaries, Charles LeBrun heroes inclusivity, shuns gender and celebrates courage and authenticity.
Kloke knows good things come to those who wait, which is why slow fashion is at the heart of everything this Melbourne-based brand does. Kloke blends simplicity and functionality (without skimping on fun prints and thoughtful details) in its extensive range of outerwear, knitwear, sweatshirts, accessories and more.