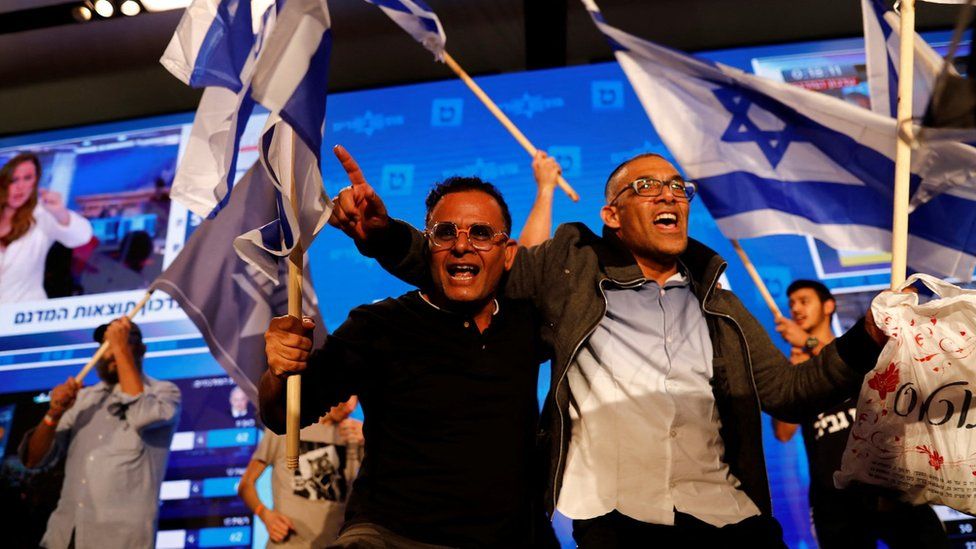 With some young religious voters literally jumping for joy, the stand-out story of Israel's latest election was the big surge in popularity of the far-right.
"Things will be better now. When he's the public security minister, they'll be better still," Julian, an enthusiastic backer of firebrand politician Itamar Ben-Gvir told me at his campaign headquarters.
"He wants the best for Israel. He wants the terrorists out," said Noam from a settlement in the occupied West Bank. "We don't want the Arabs, they throw rocks at us and take our spots in Israel," he went on, before being hushed by a party activist.
While Mr Ben-Gvir – previously convicted as a racist in Israel – is now attempting to rebrand himself as a more conventional politician, he has not changed all his anti-Arab rhetoric.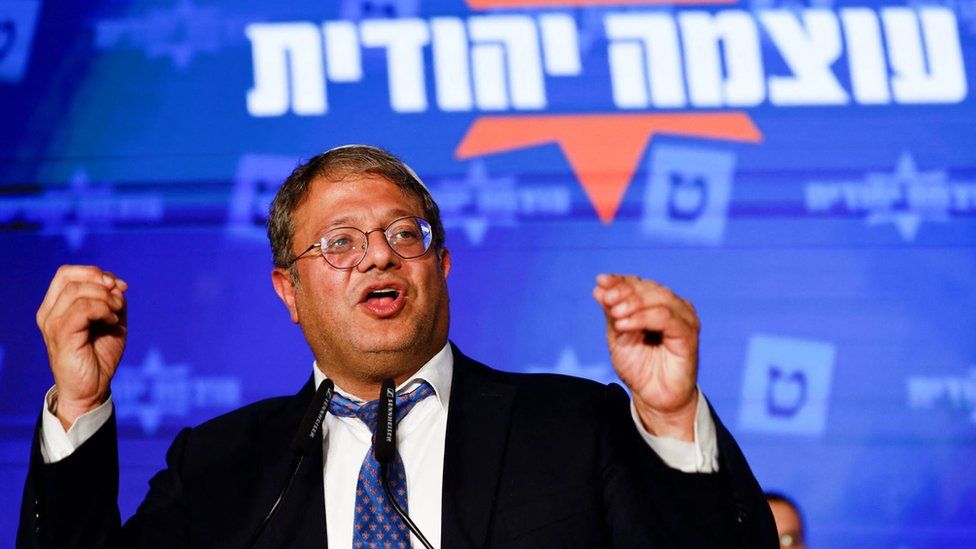 "It's time to be the landlords of this country again," he said after exit polls were published on Tuesday night.
His cheering crowd in Jerusalem mostly kept to their new chant of "death to terrorists", adjusted from the one we often previously heard from his supporters – "death to Arabs".
Other journalists and I are used to covering Mr Ben-Gvir's provocative actions in bitterly contested occupied East Jerusalem. More than once I have seen him jubilantly leading ultra-nationalist marchers through a sensitive site for Palestinians in the Old City on Israel's Jerusalem Day.
Last month, he inflamed tensions in the flashpoint Sheikh Jarrah neighbourhood by pointing a gun at Palestinians during clashes.
Now, as co-leader of the third biggest party, Religious Zionism, he hopes for a prominent cabinet position, overseeing the police.
One young female supporter of Mr Ben-Gvir's Oztma Yehudit (Jewish Power) faction, Tzori Elmakiyes, 17, from Jerusalem, said the results were "very gratifying", playing down critics' fears.
"I don't think the opponents of Oztma Yehudit should be worried because at the end of the day the party's best interest are the people and the country of Israel."
Speaking to his Likud party faithful, Benjamin Netanyahu smiled widely as he foresaw his comeback a year after he was dramatically ousted as prime minister by a broad coalition of his opponents.
The people want a government which projects "power, not weakness", he said, his voice hoarse from days of campaigning. He was answered with shouts of "King Bibi" – his fans using his nickname.
If, as expected, final election results confirm that the veteran leader can now build a stable majority government with his ultra-nationalist and ultra-Orthodox Jewish allies, this will also end nearly four years of an unprecedented political stalemate.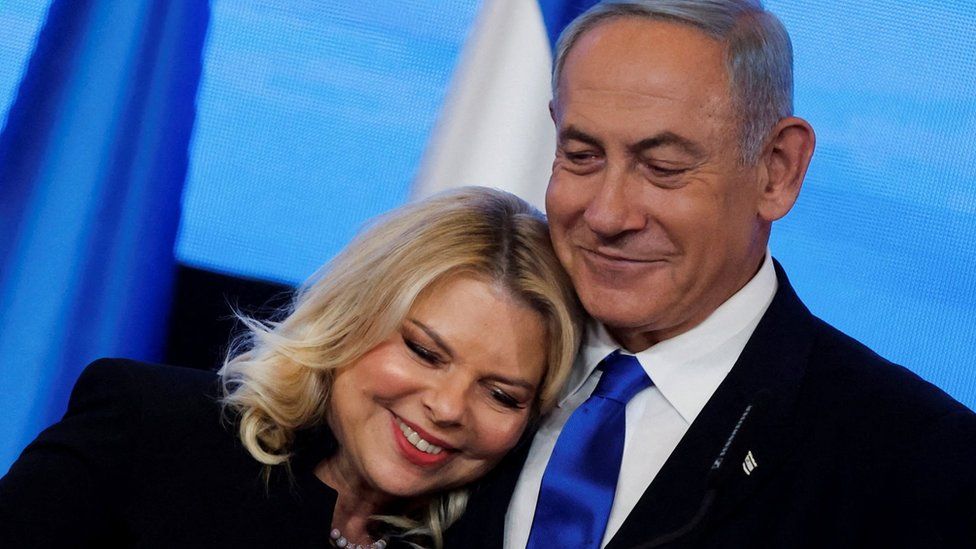 The country has been deeply split over the corruption charges for which Mr Netanyahu remains on trial. He has consistently denied any wrongdoing, accusing his opponents of a political witch-hunt.
"This is a guy who doesn't give up, no matter how bad it looks and however much he was disgraced by leaving the prime minister's office," says pollster Mitchell Barak.
He suggests Mr Netanyahu benefitted from the passage of time.
"Those who wanted to punish him, punished him," he says, adding that they may have come to miss the "stability" that Mr Netanyahu believes he represented.
There are still many Israelis with a different vision of the country.
In Tel Aviv, there was a subdued mood overnight as the current caretaker Prime Minister, Yair Lapid, addressed his Yesh Atid (There is a Future) party, insisting that Israelis wanted politics "free of incitement and hatred".
However, his experiment building an ideologically diverse coalition – made up of right-wing, centrist, left-wing and Arab parties – was ultimately short-lived.
His tenure also saw the deadliest year for Israelis and Palestinians since 2015, amid an upsurge in violence. Yet his government continued to pay little attention to ways of solving the Israel-Palestinian conflict.
That was disappointing for Haggai Mattar, editor of the progressive +972 Magazine.
These election results have also seen a further drop in support for Israel's left-wing parties.
"Israelis on the left now need to take a moment to pause and think of how we've gotten to this state," Mr Mattar says despondently.
"The left needs a reshuffle or rethink – new attitudes," he goes on. "But it might also be a terrible crash that we'll take a very long time to recover from."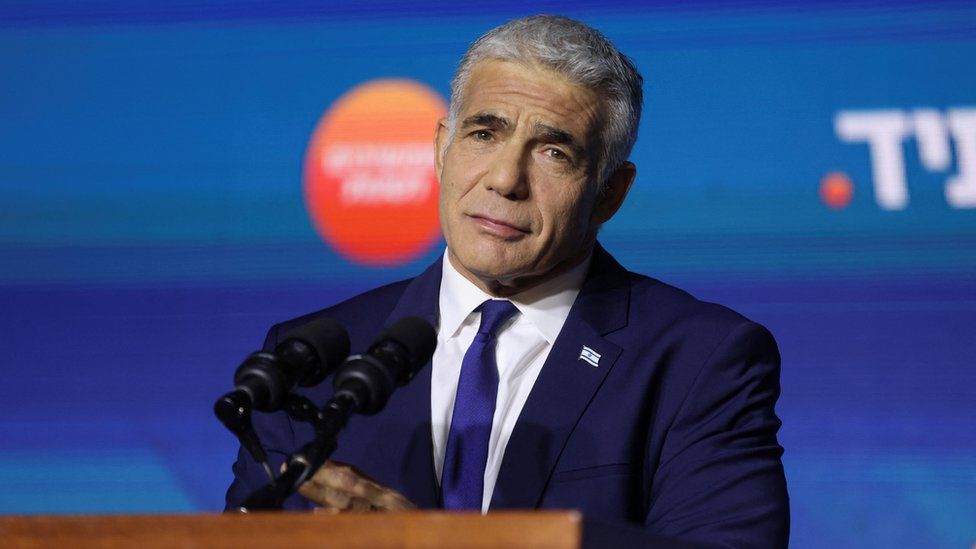 But Anshel Pfeffer, a journalist for Haaretz newspaper, says the latest election only exposed what was already a clear trend.
"There's an internal identity or culture war in Israel between what some people would see as the more liberal and open sides of Israeli society versus the more religious and extreme sides of Israeli and Jewish society," he observes.
"That's not really new but [Mr Netanyahu] has now really ramped that up for his own political purposes."
Mr Netanyahu was able to harness a shift to the right that I have observed covering politics here for the last 10 years. And that seems to have accomplished his goal to get back in office.
But now that the ultra-nationalists have been empowered they may prove difficult to control.