A video shows a man slamming an ice axe into a frozen waterfall, sending shards cascading down a drop of over 200m. All that's keeping him from following suit is a single screw drilled into the ice, and a rope dangling from it.
Karn Kowshik – an Indian ice climber and mountaineer – is attempting to climb a frozen waterfall in India's Himalayas at -25C (-13F). It's one among several videos and photos on Instagram that document his adventures.
Mr Kowshik is among a growing group of adventure sport enthusiasts who are exploring and popularising ice climbing in India, which is home to several ice-covered Himalayan peaks.
Ice climbing involves climbing frozen water features – such as waterfalls – in the mountains. Ice formations tend to be steep, jagged and brittle and climbers use ice axes and crampons – boots with metal spikes attached to the sole – to carefully pierce the ice and haul themselves up.
"If you chip off too much ice, sink your axe in too deep, or if a section starts to melt, the entire slab of ice could crumble, sending you crashing to your death," says Mr Kowshik, who calls ice climbing an "extreme adventure sport".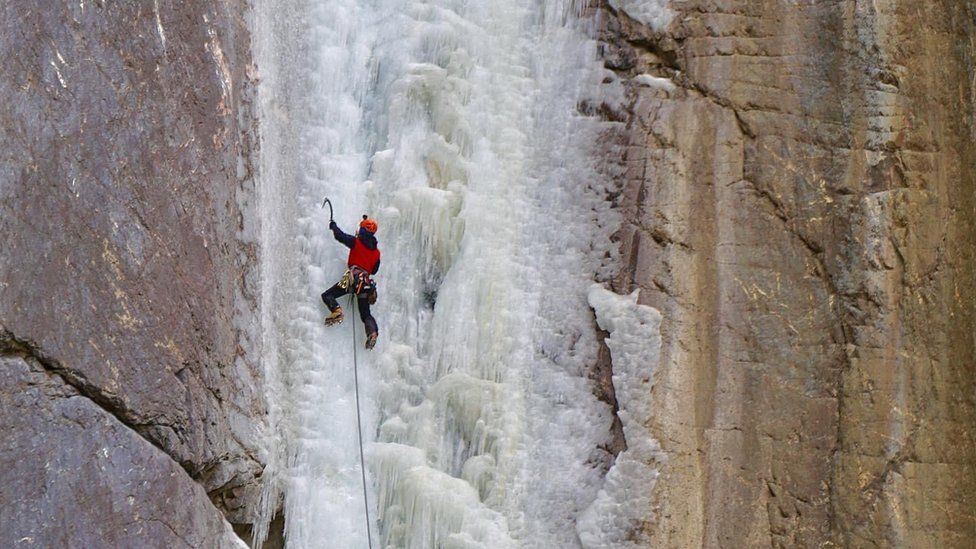 Even climbers used to traversing treacherous mountains consider ice climbing to be highly challenging because frozen water is thinner and therefore, extremely fragile.
But the sport has been popular for many years in the US and Europe, where dozens of ice climbing festivals are held each year.
Since then,some ice climbing courses – mainly conducted by climbers like Mr Kowshik – and festivals have popped up in India. A week-long course can cost anywhere between 30,000 rupees ($360; £321) and 80,000 rupees.
The road to popularity has been slow, partly because many people still don't know much about ice climbing. The sport also requires expensive gear and a high level of training and skill.
But experts say that if given some support, ice climbing has the potential to diversify India's sporting and tourism landscape and boost local economies.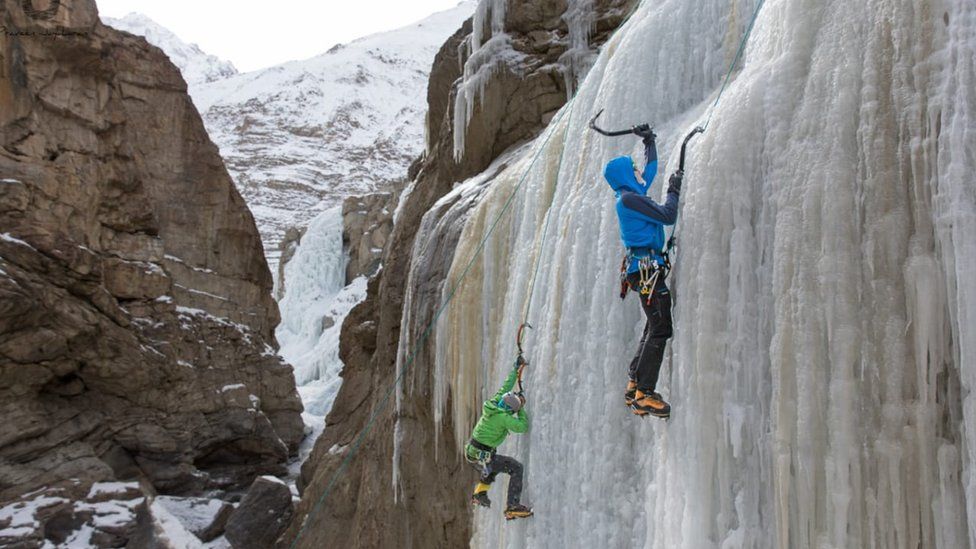 Mr Kowshik, who began ice climbing in 2015, says he was drawn by the thrill and technical challenge offered by the sport.
He and many others in India's ice climbing community spend their winters finding new routes – or water formations – to scale in icy valleys and gorges.
"Finding new routes is both risky and exciting," says Bharat Bhushan, an ice climber and instructor.
Part of the draw of climbing a new route – also called a 'first ascent' – is that the climber gets to name it. But the risk factor is also high as the quality of ice is unfamiliar, he explains.
A climber has to rely on instinct and training to gauge whether it's worth taking the next step up a precarious, frozen mass of water. Climatic conditions can change in minutes, and there's always the possibility of being hit by an avalanche.
"There are around 100 routes in Spiti, Nubra Valley and Ladakh [mountainous regions in northern India] – all found by Indians," says Mr Kowshik, adding that India's mountains offer a wide variety of water formations in terms of texture and complexity.
Mr Bhushan co-founded the Piti-Dharr International Ice Climbing Festival in 2019 in the Spiti Valley. It sees about 20-30 participants each year including tourists, locals and climbing enthusiasts.