"We're in uncharted waters," one analyst told ABC News.
Even before Russian troops invaded Ukraine, U.S. officials warned global peace would be endangered if Russian President Vladimir Putin were allowed to brazenly seize another sovereign country.
At the same time, analysts have warned that if he faced no option but defeat in that bid, the outcome could prove to be even more dangerous — a so-called "cornered Putin."
Ukrainian successes on the battlefield have not only pushed Russian troops back but now have pushed Putin further into a corner — forcing him to take a series of dramatic steps to reinvigorate his brutal campaign: a sweeping military draft, labeled as a "partial mobilization," to surge thousands of soldiers to the fight, and orchestrating what the West has called "sham" referenda in occupied territories in Ukraine — intended to pave the way for them to be "annexed" — considered, in Putin's view, to be part of Russia.
MORE: Blinken says UN must tell Putin to stop 'reckless nuclear threats' over Ukraine
Most alarming, in a rare televised address, Putin also issued a new round of thinly-veiled nuclear threats — warning that Russia will use "all available means" to protect what he now portrays as Russian people and territory.
While some of his rhetoric isn't new, the changed circumstances in the conflict are. ABC News spoke to experts and former U.S. officials about why Putin's latest saber-rattling escalates risks — for both Putin and the world.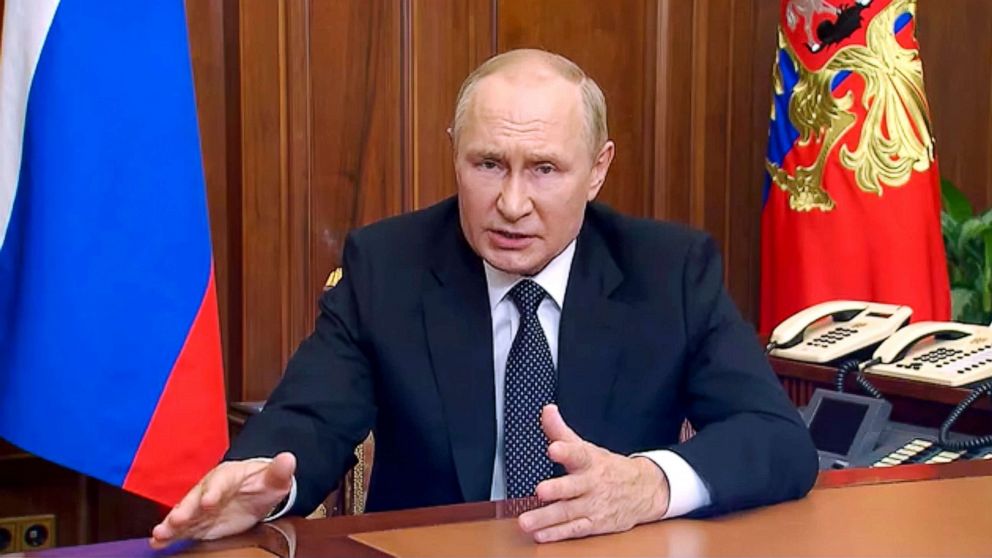 MORE: Russia-Ukraine live updates: US privately warns Russia against using nuclear weapons
Losing the home crowd
Putin's "partial mobilization" to send Russians who have gone through military training to serve in Ukraine is broadly seen as a tacit acknowledgement that his military is failing to accomplish Moscow's goals in Ukraine.
But Max Bergmann, a former State Department official and the director of the Europe Program at the Center for Strategic and International Studies, says it also puts Putin's control over his own country in question.
"What is clearly happening here is that the Russian military position in Ukraine is collapsing," he said. "Forcing people to go and fight in Ukraine is an extremely risky political decision. This is one of the most incredibly disruptive things that can be done to a society."
Although economic penalties for the invasion continue to have a mounting impact, Bergmann says the move will bring the war home to many Russians for the first time. And what's worse, he adds, is that Putin hasn't even officially called his invasion of Ukraine a war — still describing it as a "special military operation."
"There's a total disconnect between the Russian government messaging that this is just some sort of tactical military effort in Ukraine, versus the need to suddenly rip men that have maybe at one time in their life served in the military for a year away from their families — many with children — and from their jobs, off to a battlefield where tens of thousands of people are dying," he said.