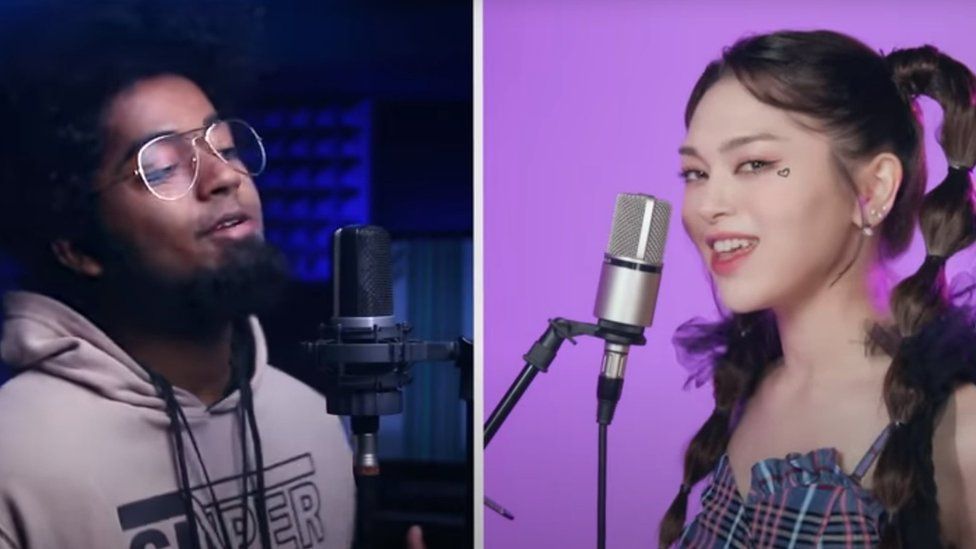 Last year, fans of NCT 127 – among the world's most popular K-pop boy bands – went into a frenzy when the group released a teaser for their new song, Favourite (Vampire).
But South Asian ears, used to Bollywood music, picked up on a familiar tune – from Are Re Are, a 90s hit from the Shah Rukh Khan and Madhuri Dixit starrer Dil To Pagal Hai.
NCT 127 had used a sample of the iconic whistle from the song, turning it into an electronic whistle.
"They also changed the melody a little from the second bar which makes it different from Are Re. That's how hip-hop artists usually sample stuff," says musician and producer Anshuman Sharma, who follows the Korean music industry closely.
Rap, hip-hop, R&B and trap feature prominently in K-pop, and black music artists have been a part of the industry for years. But NCT 127's Favourite – also the name of the band's repackaged album, which sold over a million copies in pre-sales – points to growing Indian influence in Korean pop music.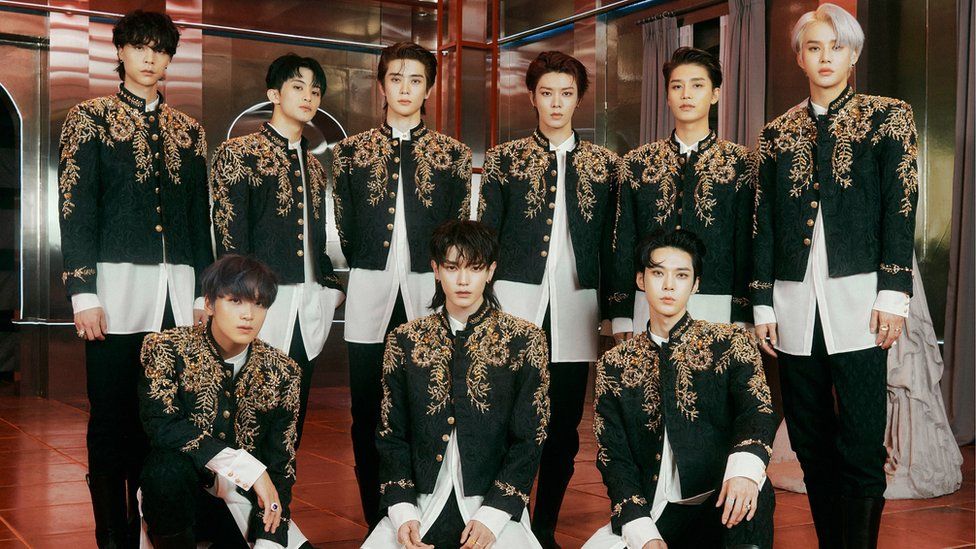 For years, Indian fans had noticed similarities in K-pop and Bollywood songs, and circulated lists online mulling over such comparisons. Now, the relationship has clearly become more collaborative.
"Years ago, a lot of Indian film music producers and music directors would copy K-pop songs directly. There's been a bit of evolution in that it's not about copying anymore," says Riddhi Chakraborty, assistant editor at Rolling Stone India.
K-pop found its first fans in India in the north-eastern state of Manipur – a ban on Bollywood films by separatist rebels in the region sparked a following for Korean dramas and eventually K-pop.
The genre has since exploded across India. K-pop contests, which began over a decade ago with fewer than 100 participants, now attract thousands of people. Songs on streaming platforms draw millions of Indian listeners. In 2020, a clip that skilfully mashed superstar band BTS's choreography for Boy With Luv and the Bollywood hit Chunari Chunari went viral.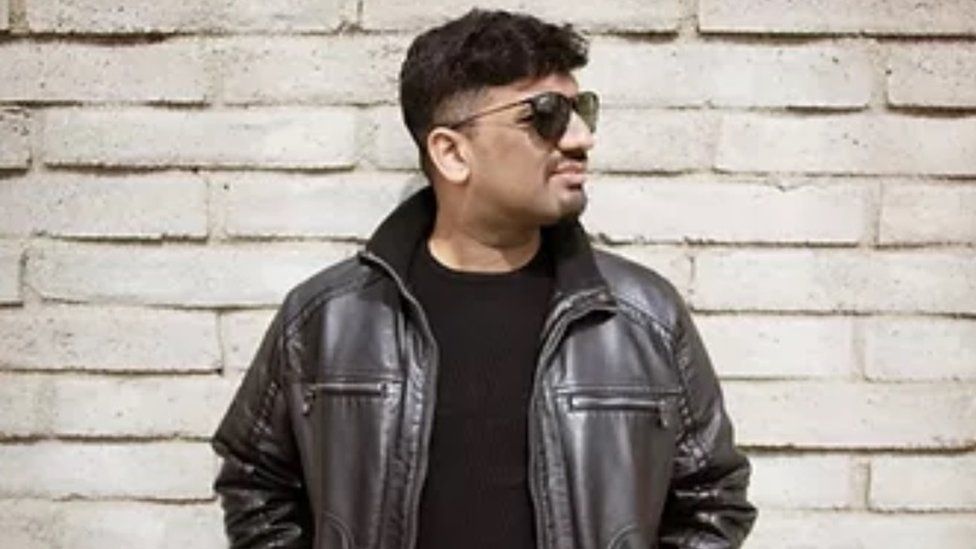 Ms Chakraborty, one of the first Indian journalists to cover K-pop, says artists in India and South Korea are now discovering the range of music on each side.
In 2019, she started a series for Rolling Stone India where K-pop stars reacted to songs by independent music artists in India.
"What's lovely is that they started learning about each other," she said. "So not only will the K-pop star see these videos and be like, 'Oh, I had no clue India had something like this', the Indian artist will see this on social media and say 'let me check out this K-pop star who's reacting to my music.'"
The Indian princess who became a South Korean queen
How to show your devotion to the 'K-wave'
It's how Indian singer-songwriter Armaan Malik met Korean-American artist Eric Nam in 2021.
Their song, Echo, featuring Indian-American musician KSHMR, is Malik's first English single and the most high-profile collaboration so far between Indian and K-pop artists. Malik also performed at a virtual K-pop concert last year.
In conversation with Malik after Echo's release, Nam said that the Indian and Korean songwriting industries were similar in many ways.
Composing and writing were "more specialist" roles in the two countries, he said, compared with the US where the process was more fluid.
From inspiration to collaboration
In February, K-pop star AleXa's label reached out to Ashwin Bhaskar, an independent Indian musician, asking if he would like to collaborate on a cover of her song Tattoo.
He said yes, but the two artists didn't meet or speak to each other – instead, they emailed music files back and forth for nearly a month to produce the song.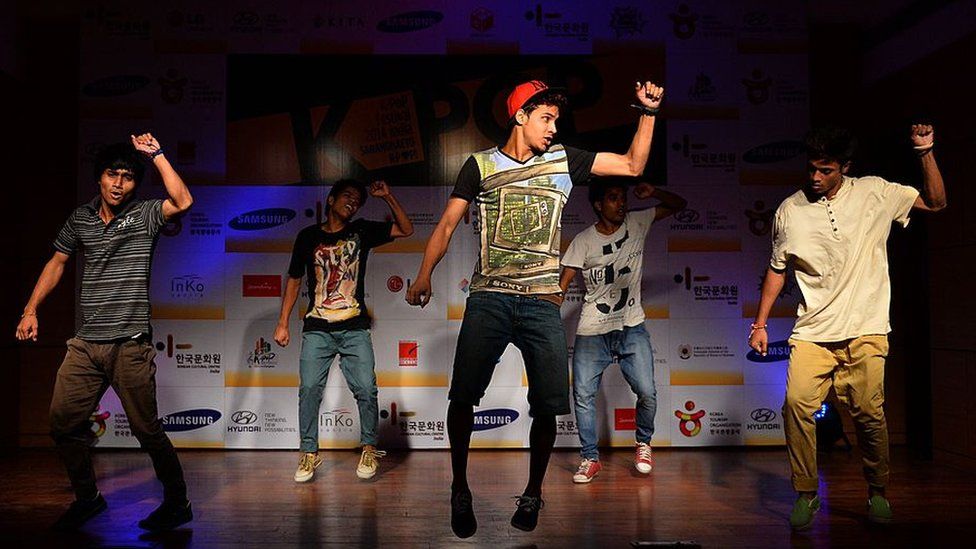 "It was made entirely on the internet. I think we're already living the future of music collaborations," Bhaskar says.
In 2020, K-pop star Wengie worked with Indian artists Shalmali and Ikka for her single Thing You Want, incorporating Punjabi bhangra into a track that also had elements of EDM and trap.
K-pop melodies, like Indian ones, are musically complex, Sharma says.
"There are certain brass hits which are common both in K-pop and the commercial music we hear. A lot of K-pop songs also have Indian instruments – like the tabla in Loona's Paint The Town," he said.
"A cool flute or tabla sound for a K-pop song, sure, why not? As long as it sounds good on the song we use it," says Krishnan, who has worked with K-pop bands such as GOT7 and N.Flying.
But Ms Chakraborty has a word of caution: the result of the inspiration should be respectful of the source.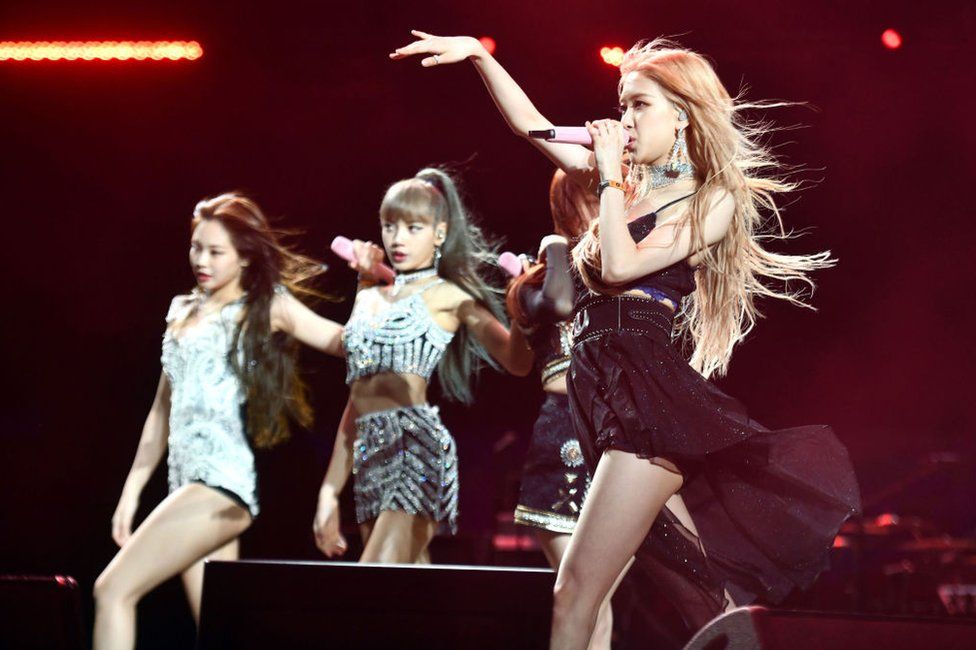 In 2016, Indian fans criticised K-pop band Oh My Girl for performing an older Korean song, Curry, which had racist lyrics.
"When it's done from a place of respect, and you know what you're doing, you've done your research. For example, in AleXa's debut music video, she incorporated the [Hindi] word 'sansaar' [universe] to make her Indian fans feel included," she says.
She, however, adds that the K-pop industry has become more responsive to criticism, For instance, girl group Blackpink removed a shot from its 2020 video of How You Like That, where an idol of the Hindu deity Ganesha was used as a prop.
As genres collide, producers aren't looking to merely copy a melody or note but to capture a mood or energy, Krishnan says.
"For example, we can listen to a Punjabi dance song and try to capture the essence of it – let's say the tempo. Then we go write a brand new song that fits our artist and genre. The resulting song usually sounds nothing like the original."