As soon as the great Kapil Dev retired, India began looking for his replacement – a fast bowler who could also score centuries.
Many auditioned for the part, from Chetan Sharma and Ajit Agarkar to Irfan Pathan and Bhuvaneshwar Kumar. They did have their successes – Agarkar, for instance, made a century at Lord's and later claimed six wickets in an innings in Adelaide as India beat Australia.
But while they would be picked in the side for their bowling, none of them would make it on batting alone.
Kapil was a natural, as dangerous with ball in hand as he was with the bat. He accomplished everything with a swagger and grace that set him apart. In a career spanning 16 years, he never missed a Test because of an injury.
The latest to audition for the Kapil role – Hardik Pandya – hit a half-century on his Test debut in Galle, Sri Lanka and a century (with seven sixes) in the same series.
In the next Test in Cape Town, South Africa, he made 93. And when he claimed five for 28 in the Nottingham Test, including the wickets of Joe Root and Jonny Bairstow (he also made an unbeaten half century), he seemed to have moved into the role.
In the last year or so, Pandya, 29, has emerged as India's settled all-rounder in T20 cricket, striking at close to 150, and oozing a Mahendra Singh Dhoni-like calm in tight situations.
His 113-run partnership with Virat Kohli for the fifth wicket was crucial to India beating Pakistan in the World T20 in what many consider the finest T20 international ever played.
He leads India to New Zealand later in November, in a format that seems best suited to his skills and physical state. Pandya bowling four overs of sharp pace, often touching 140kmph (87 mph), has given India a balance it otherwise lacks.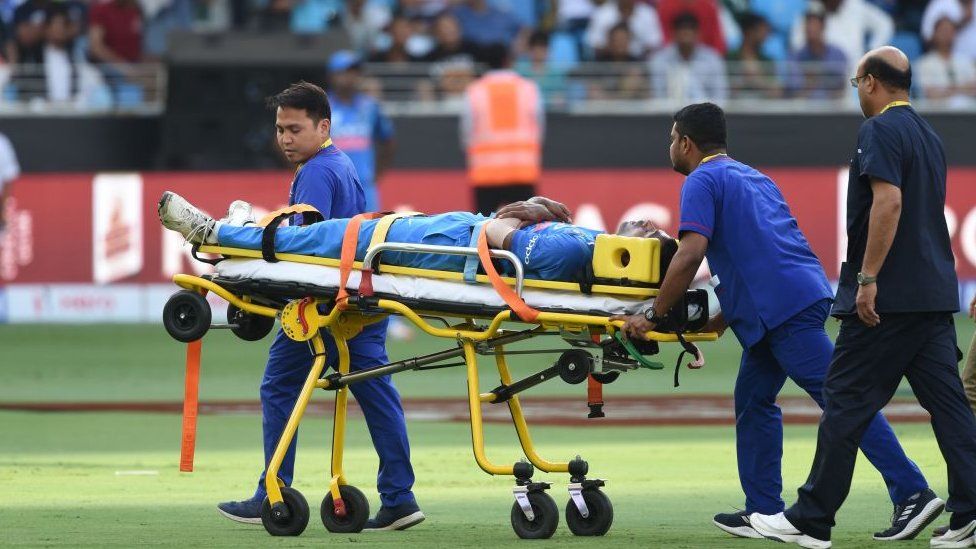 Four years ago at the Asia Cup in Dubai, Pandya had to be stretchered out after he pulled up while bowling, clutching his back. Many feared that he might never get back to that level again. India had groomed a finisher for the shorter format, and now stared at the possibility of having to start all over again.
Likewise with Pandya too. He didn't bowl at all for Mumbai Indians in the IPL tournaments.
"We knew it was something serious," former national coach Ravi Shastri said of the moment Pandya was injured.
"In the medical room he could barely move, it was just his head moving from side to side. He was in real, real pain," he told Star Sports.
"From there, to come back shows a lot of character, a lot of determination."
In August this year, Pandya claimed three for 25 and scored 33 off 17 balls in the Asia Cup against Pakistan with a six in the last over to see India through.
It was, as many observed, achieved on the same ground, against the same opponents and in the same tournament in which he had been stretchered off four years earlier.
The Pandya brothers – older sibling Krunal, a left arm spinner, has played white ball cricket for India – moved from Surat to Baroda in Gujarat state at a young age for the better cricketing facilities there. It was a call made by their father, and the sons were always grateful, especially since the family wasn't well off then.
The brothers trained at former Indian wicket keeper Kiran More's academy. In 2015, John Wright, scouting talent for Mumbai Indians, chose Hardik Pandya.
His initial price was $16,000 (£13,841). Three years later, he was retained for $1.7 million.