Daughter Hema (Sabita) comes to Amaravathi with her father to give a dance performance in the temple. Yajulu likes her and fixes her marriage with his grandson Gowrinatha Sastry (Ravikanth). By then, Hema is already in love Haribabu (Girish), a harijan. Though Gowri marries Hema, he can only see goddess Durga in his bride. How things turn when Yajulu knows the truth is the rest of the interesting story.
About the film:
This is one of the best films by K. Viswanath. While making Sankaraabharanam, Viswanath also directed a regular masala-filled commercial film titled Alludu Pattina Bharatam, after which he made Subhodayam. However, while working for Sankaraabharanam, he wanted to make a film on the institution of marriage, and Saptapadi was born out of such an idea
When I saw the film on TV for the first time, I was bowled over the photography, the music, and the narration of the film. The film opens with the M.S. Subbulakshmi's "vEnkaTESwara suprabhaatam" while showing a sunrise on the river Krishna, shot beautifully by cameraman Kastoori. The film's heroine probably had three or four dialogues in the whole film, it seemed. Though we observe the love between Haribabu and Hema, the film didn't have a single word to propose love, and they also don't touch each other (except in a scene where Haribabu washes Hema's anklets).
Real life brothers Somayajulu and Ramana Murthy act as father and son in this film. The film marked the debut of Ravikanth and Sabita; Girish acted in Nelavanka and Subhalekha earlier. While Ravikanth later acted in Sobhan Babu-Vijayashanti starrer Devaalayam, Sabita did not act in any other movies after Saptapadi. Jitmohan Mitra and his daughter Vamsi Krishna (a.k.a Lalita Subbalakshmi) appear in the song gOvullu tellana…; Lalita Subbalakshmi, who completed her Masters program in Human Resources, now lives in Philadelphia, USA with her family. Master Ravishankar who also appears in the song – the boy who mediates between Hema and Haribabu – is Dialogue King Saikumar's brother, and is a leading dubbing artiste (better known as "Bommali" Ravishankar after the stupendous success of Arundhati) and character artiste today. Today's popular character artiste Sivaparvathi plays a minuscule role as sixth daughter of Allu Ramalingayya. The film is one of the very best ones for Allu Ramalingayya; he had wonderful dialogues in the film about caste and religion. With memorable dialogues between Somayajulu and Allu Ramalingayya, and all through the film, Jandhyala shines as a writer even those this film has very few dialogues like Viswanath-Jandhayala combination Sankaraabharanam.
Flute by Nanjappa is a major plus for the film, particularly highlighting scenes such as the one in which Hema ties the toy cradle to the tree while DOlaayaam… plays on the flute. With scenes like Hema seeing her engagement bangles as handcuffs, and Hema cleaning the front yard at dawn while raaga bhoopaala plays on flute, this film is true poetry on celluloid as each scene is carefully crafted to make it authentic and appealing. Veturi's lyrics make the "poetry on celluloid" even more authentic! Who else can come up with lines of practical importance, like aadi nunchi aakaaSam moogadi, anaadigaa talli dharaNi moogadi – naDuma vacchi urumutaayi mabbulu, ee naDamantrapu manushulakE maaTalu… inni maaTalu! or those of philosophical insights such as EDu varNaalu kalisi indradhanusautaadi – annii varNaalakU okaTE ihamU paramunTaadi (with a SlEsha on "varNam" which means color and also creed) or those that are poetic, such as pillanagrOviki niluvella gaayaalu – allana mOvini taakitE gEyaalu …all in one song?
Interestingly, at about the same time as Saptapadi was made, Bapu made Radha Kalyanam with Chandramohan, Radhika, and Sarath Babu (based on the Tamil film Anta Ezhu Naatakal) and Dasari Narayana Rao made Swayamvaram with Sobhan Babu, Jayaprada, and Dasari Narayana Rao himself in the lead roles. All these films – each one made by a top director of those times – had a similar story with a different ending and all the three films became good hits!
Producer Bhimavarapu Bucchi Reddy:
I first met Viswanath gaaru in the music settings of Sankaraabharanam. I requested him to do a film for me and he narrated the story for Saptapadi that he already had in mind then. I was instantly impressed and was so excited that I wanted to start the film right after Sankaraabharanam. Viswanath gaaru, however, said that it would be good if he did a different film after Sankaraabharanam and before Saptapadi since both the films would be based on music and dance. We thus waited until Subhodayam came out and then started off.
We started the heroine hunt after Sankaraabharanam. We used to attend all dance programs anywhere in the state, right from Vizianagaram to every other corner of the state. We used to take photographs of disciples in various dance schools to show them to Viswanath gaaru. In a dance school in Hyderabad, we saw Alekhya and Sabita performing and Viswanath gaaru liked Alekhya's performance and took her screen test. We shot for a day with her but Vishwanath gaaru was not satisfied with her, and the hunt continued. After six months of scouting around, he remembered Sabita and spoke to her family. Though Sabita and her family were not interested in a film career for Sabita, they reluctantly agreed for her to do the film as Sankaraabharanam was released and everyone praised it a lot. Sabita was later trained for a month in Madras for all the dances in the film. We posted an advertisement in all leading newspapers for other lead roles and Girish, who was a student of the Madras Film Institute then, applied along with his photograph. We liked his profile and penciled him in for the role of Haribabu. Viswanath gaaru dubbed for his role. Viswanath gaaru once saw Ravikanth in Amalapuram, where the latter worked as a Lecturer in Telugu. Viswanath gaaru remembered him and called him for the role of Gowrinatha Sastry.
https://www.gcclp.org/profile/griquas-vs-pumas-broadcast-free-25-june-2022-watch/profile
https://www.gcclp.org/profile/griquas-vs-pumas-broadcast-free-25-june-2022-nit-rugby/profile
https://www.gatewayfamilyservices.org/profile/pumas-vs-griquas-live-coverage-tv-on-currie-cup-final-25-june-2022-rugby/profile
https://www.gcclp.org//profile/pumas-vs-griquas-live-free-brodcast-on-currie-cup-final-25-june/profile
https://www.gcclp.org/profile/scotland-vs-chile-live-online-broadcast-rugby-friendly-international/profile
https://c.realme.com/ph/post-details/1540780828551553024
https://c.realme.com/ph/post-details/1540780950438064128
https://c.realme.com/ph/post-details/1540781100615081984
Producer Bucchi Reddy receiving the Award from President Sri Neelam Sanjeeva Reddy
Viswanath gaaru wanted a temple on the river banks with stairs going straight from the river to the temple, and we searched all over Karnataka for such a temple. It was a time when pushkaraalu were on for the Krishna river, and Vishwanath gaaru was in Vijayawada shooting for Subhodayam. He heard that the temple at Amaravathi was being renovated for the event. He asked me to go along with him to see if that temple would suit our purpose, and when we realized that it was exactly like we wanted, we finalized the shooting spot. In order for shooting properly, we had to tear down the wall of the house and some of the temple walls were taken down too in order to show the river. These we reconstructed before we left the village after our shooting was done. 55 days of single schedule shooting (second week of February to April 05) completed all but the song nemaliki nErpina naDakalivi…; the song itself was shot at Tummalapalli Kalakshestram in Vijayawada.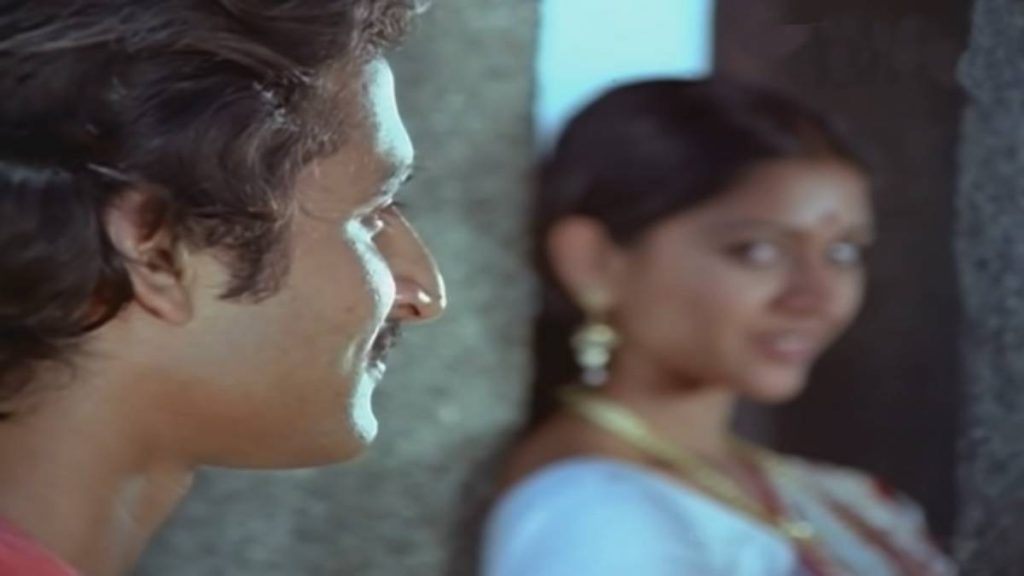 We approached several Veda pandits for the Vedic chant in the film, but they simply refused. We heard that there was a huge Veda pandit meet happening at Rajahmundry, and we went there and requested people to do the needful. They were very upset about the idea and refused to perform Vedic chants for the film. We traveled to Bellary and Tirupathi to see if we can find anyone but even that didn't work out. Finally, one person in Ongole agreed to do it upon using a high-level recommendation, but he set forth several conditions to which we agreed without a question and we kept him at Jandhyala's house during the shooting.
The music was all completed much before the film was started, and the audio album was ready about 3-4 months before the actual audio release! We spent about Rs.2,00,000/- for the audio of the film which contained over 10 songs and bit songs. The flute played a dominant role in the film since the male lead was a flutist. We thus gave special credits to Nanjappa who worked in the troupe of K.V. Mahadevan. Similarly, we used Yella Venkateswara Rao's mRdangam for the taanDavam bit and we credited him especially too.
Cameraman Kastoori assisted Balu Mahendra for the film Sankaraabharanam. We wanted Balu Mahendra for Saptapadi too but he was busy at that time directing a film. So Viswanath gaaru opted for Kastoori instead. Kastoori was talented but he was slow in composing his shots and he wanted special treatment compared to others. Everyone among the cast and crew including Viswanath gaaru stayed at Amaravathi agrahaaram for the shooting, but Kastoori insisted on having a separate hotel room in Vijayawada along with a car and driver at his service, from where he operated to and fro daily. After this film, he got a chance in Telugu but he was not chosen ultimately after his behavior with the team was known.
When the film was ready, we showed the film among film circles but no one liked the climax and felt that it was too artsy. That put Viswanath gaaru in a dilemma and he asked my opinion. I left the decision to him and we released the same version nevertheless. The film was a decent hit and we got all our money. The film cost us eighteen lakh rupees and I got not just my money back but also a lot of names with the film. The film was released in Sangam theater at RTC X Roads of Hyderabad (now called Mayuri theater) and ran for 60 days and later shifted and ran for 100 days. It ran a straight 100 days at Sangam theater in Vishakhapatnam and another 100 days with shifts for noon shows only. The film ran for 10 weeks in Leelamahal and completed 100 days with shifts in Vijayawada. The film was dubbed in Tamil and Malayalam also but was not released in Tamil; it was released in Malayalam and had a decent run at BO. We sold the rights for four lakh rupees each for each language. Viswanath's remuneration for the film was one lakh rupees, while Allu Ramalingayya was paid Rs.30,000. As a part of the remuneration, Viswanath gaaru also got the rights for the Hindi version of the film. Rakesh Roshan produced the Hindi version titled Jaag Utaah Insaan starring Mithun Chakraborty and Sridevi. A lot of changes were made in Hindi, but the film itself was shot mostly at the same locations used in the Telugu version. Somayajulu was re-cast in Hindi, while Rakesh Roshan appeared as Gowrinatha Sastry in the film. The film was a flop as the artists' images dominated their characters.
When the film was released, the Government of Andhra Pradesh declared October 2nd as Harijans Day. Late Sri Anjayya was the Chief Minister then and Chandrababu Naidu was the Cabinet Minister for Cinematography. The C.M. invited all the cast and crew to Hyderabad, accommodated us at a separate guesthouse for two days, and he and his full Cabinet comprising of 26 Ministers felicitated us at Ravindra Bharathi. That was one of the best memorable incidents I had with the film. Such an incident never happened before or after Saptapadi to anyone. The film won the Nargis Dutt Award and I received the Award from the then-President Sree Neelam Sanjeeva Reddy. The film also fetched Filmfare Award for Best Director to Viswanath gaaru for the Telugu version, while P.L. Rai got Filmfare Award for the Best Cameraman for the Hindi version.
Heroine Sabita on Saptapadi:
I used to take dancing classes with Dr. Uma Ramarao gaaru, a noted classical dancer. At the premiere of Sankaraabharanam, she took me and another colleague Alekhya for a dance performance. Viswanath gaaru was looking for a heroine for Saptapadi. He liked Alekhya and took her photographs, Alekhya even went to Madras for a test shoot, and they even shot a song with her. Later though. they somehow felt that she'd not suit the role and they restarted their hunt for a heroine and considered a lot of profiles. Meanwhile, Subhodayam completed its shoot and Uma Ramarao gaaru took us for a performance at the film's premier again. After the premiere, we performed at one of the houses of Uma gaari friends, for the Subhodayam team to see. The next day, Viswanath gaaru sent a message to my parents that he'd come to my home that evening to meet them. I was never interested in films and thus I was surprised when I received this message from someone in Viswanath's office; I was by myself at that time at home. I anyway informed my parents, and the director did come in the evening. He said that he wanted to perform a screen test on me for the role of Hema. My father finally agreed, as the director of a classic such as Sankaraabharanam came to our house personally to request the same. Viswanath gaaru clarified that a screen test is just a screen test and that they just wanted to try it out but that it doesn't obligate them to make me act.
My parents and I went to Madras for the screen test. I was trained for the song nemaliki nErpina naDakalivi… with Seshu master, who was a noted Kuchipudi dancer and dance master. He was the one who showed me how the filmy classical dance differed from the actual classical dance. As a student of intermediate second year at that time, I started worrying about missing classes when I spent a week in Madras and the screen test was not done yet. When we approached Associate Director Nanduri Vijay gaaru, he said that the photoshoot was scheduled for that very day with me and Girish, at the producer's house. The photoshoot went fine but we were not informed of the outcome yet. A couple of days passed thus and I was informed that I'd need to go back so as not to miss any more classes. They told us that we could start shooting in a couple of weeks, after some more dance training, and we landed in Amaravathi for the shoot.
https://c.realme.com/id/post-details/1540785386614509568
https://c.realme.com/id/post-details/1540785612075126784
https://c.realme.com/id/post-details/1540785842313056256
https://c.realme.com/id/post-details/1540786041592827904
https://c.realme.com/id/post-details/1540786149650681856
https://c.realme.com/id/post-details/1540786301857792000
https://c.realme.com/id/post-details/1540786434565558272
https://c.realme.com/id/post-details/1540786556670136320
Viswanath gaaru used to explain the scene and used to go into every minute detail also in order to get the right expression from the artiste. After the shooting was over, I came back and continued my studies. As I was too busy with exams later, Dubbing Janaki's sister dubbed for me in the film. After the film was over, there were discussions about me continuing a film career or quitting and continuing my studies. I opted for the latter as a girl from a traditional family and considered comments from relatives and the general public if I continue to work in films and act in commercial films. Nageswara Rao gaaru used to tell me that it's hard to go back to normal life after getting used to the silver screen, but it was okay with me. I am happy with what I did. There were talks about me doing a lead role in Gopala Krishnudu opposite Nageswara Rao gaaru (Radha did that role later), and there were also newspaper stories that I was chosen for a role in Viswanath's Saagara Sangamam (S.P. Sailaja was later chosen for the role.) but neither was I interested nor was I approached. I was more interested in classical dance than movies, and I had my priorities properly identified.
Eventually, I did my Masters in Economics and also in Dance. My husband has a Doctorate in Mechanical Engineering. I am working as a Database Administrator now. I have a son, who is in the final year of his Engineering, and twin daughters who are both in their intermediate now. I worked for three years in the USA but my kids didn't like it there and we thus moved back to India. I am happy that I did the film Saptapadi, and I am also happy that I have not done any other films after that! I do not have any regrets about quitting films after acting in such a classic. …I saw the Hindi version of Saptapadi in Chennai along with the Viswanath gaari family. I did not like the film as there were too many changes made to the script to suit a national audience, and even Viswanath gaari wife did not like it. The result was not as appealing as in Telugu either.
Ravishankar on Sapthapadi:
I was in school when I did that film. Until I was in the location, I was not aware that I had to tonsure my head for the role, and I didn't like the idea because it was not a shave-off totally – I had to have some hair in the front and a shoot of hair ( pilaka) in the middle! Uncomfortable with such a hairdo, I started crying and Viswanath gaaru convinced me to do it, and I reluctantly agreed. …I had a hard time in school because of his new hair styling. I used to wear a cap to cover it up but my friends used to pull off the cap and tease me. In the end, it was all good, of course, and I even had a memorable song shot on me. …I once lost all flutes in the rocks somewhere, and associate director Nanduri Vijay gaaru was so furious that he slapped me for being reckless! …I shot for a total of 12-15 days for the film, on three different schedules. My brother Saikumar accompanied me the first two times and my uncle came along the third time. …It was the best film I did as a kid, and I am proud to be a part of a classic film such as Saptapadi.
Associate Director Nanduri Vijay:
We all stayed for almost three months in a newly constructed guest house in Amaravathi. The District Collector then, Rambabu gaaru, alloted the Venkateshwara Guest House completely to us. Viswanath gaaru, Bucchi Reddy gaaru, Somayajulu gaaru, Thota gaaru, and I were on the first floor, some artists were on the ground floor and others adjusted in nearby private houses. All the technicians and artists had the same food. As many of the artists were new and there were no star tantrums being thrown, we used to move like a family during the shooting. Even the villagers showered their affection on us and gave us whatever we asked for the shooting. The kids we got from the Veda Pathasala in Bapatla – for the Vedic chanting in the film – were so attached to us that they wanted to come along with us instead of going back to Bapatla! We celebrated Holi with our unit in Amaravathi, and I even missed being at the team felicitation for Sankaraabharanam.
…The opening shot of sunrise took us nearly a week with cameraman Murthy (whose screen name is Kastoori) and Ravikanth going along with me every morning and waiting to shoot the sunrise. We hired a barber at Amaravathi to come to the guesthouse before 5 a.m. and shave Ravikanth's head, as the sunrise shot was of Ravikanth saluting to the sun and taking a dip in the river. Ravikanth used to plead that it's a tough job to take up on a cold winter morning but we had no choice.
…We approached a good, traditional sculptor in Chennai, who used to observe strict restrictions of piety while sculpting the idol of the Goddess Durga. Once it was finished, we installed it in front of the shivalingam in the temple and hid the lingam with a curtain behind the idol of the Goddess we installed. On all those days we shot in the temple, we performed all the regular puja ceremonies on the idol of the Goddess; puja was also held was Lord Shiva behind the curtain each day. No one can even notice that there was a shivalingam behind the curtain there!
…Viswanath gaaru asked me to arrange for a thousand cows for the song gOvullu tellana…. I told him that I'd get them ready by the next morning, and when I enquired around, I was told that I need to the nearby village of Bellamkonda for the cows. Since it was near, I thought I could go after we wrapped up the shooting in the evening. However, on the horrible roads, we could not see anything in the dark by the time we reached the not-so-nearby Bellamkonda! We still spoke to people there and took an assurance that they'd get us the cows by the next morning. It was so dark on our way back that we had to light up a torch using the diesel from our car, in order to find our way! Thankfully, the villagers got the cows as promised.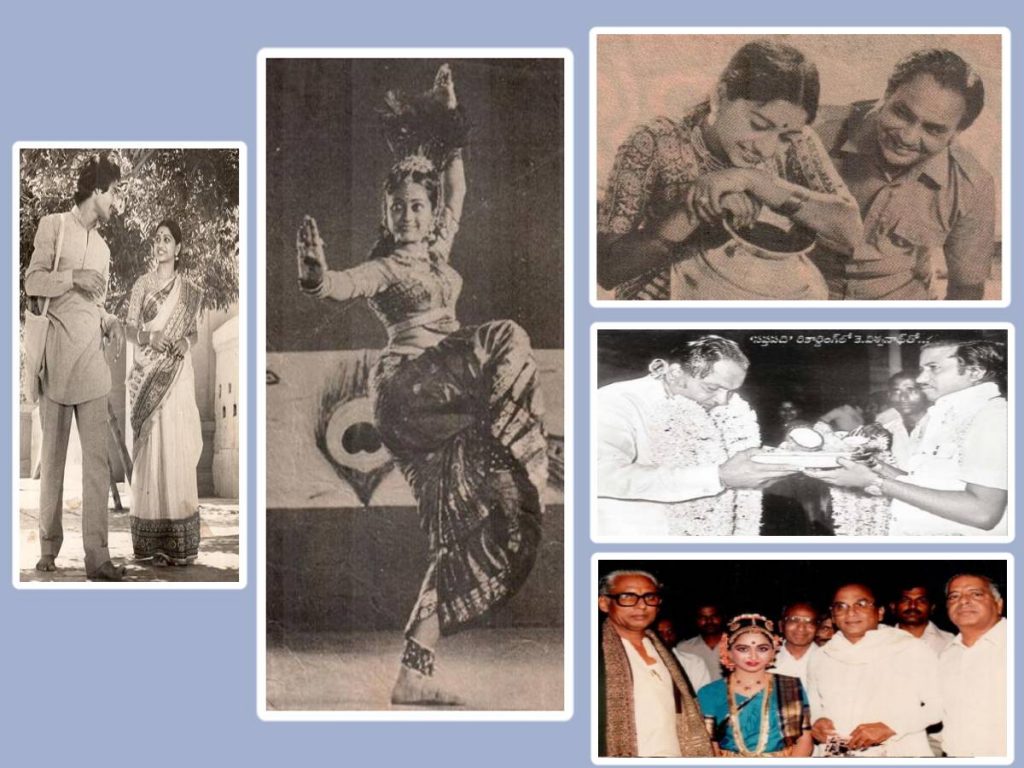 K. Viswanath on the failure of the Hindi Version:
The Hindi version was a flop but then I don't think that was because of the changes in the script or the images of the artists. I think it's simply that the film's story didn't appeal to the North Indian audience. Only in places like Bihar, there still were antisocial practices like untouchability …and not every audience could connect to the content thus.
Acknowledgments: Anand Kuchibhotla (for locating Sabita garu), Vinayak Rao garu (for locating Bhimavarapu Bucchi Reddy garu), Bheemavarapu Bucchi Reddy garu, Sabita Garu, Ravi Shankar Garu, Vijay garu, Vishwanath Garu and Nachaki (for Editing)
Photos Courtesy: Sabhita Krishna and Vinayaka Rao